Ten thousand years ago our culinary and gardening ancestors began a tradition that has come to be known as "seed saving." By replanting seeds from the foods they gathered from their crops, they began a philosophy of preserving quality varieties that is still upheld by gardeners of the 21st century.
Today, the development of a new garden located behind Lafitte's Landing Restaurant at Bittersweet Plantation carries on this "seed saving" tradition by planting heirloom varieties of indigenous Louisiana fruits and vegetables.
Heirloom vegetable varieties featured in the garden include the Arkansas Traveler tomato, an old southern, heat-tolerant variety that was bred in 1800. This particular strain fairs well in steamy South Louisiana, setting fruit in high temperatures when others drop blooms. It yields an abundant crop of reddish pink fruit rich in flavor and full of juice.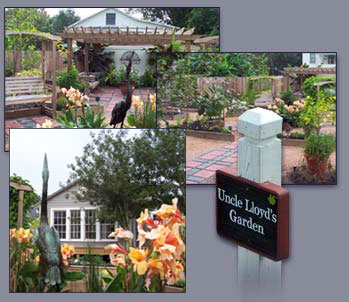 The Purple Calabash tomato, with a distinctive wine flavor, along with the Brandywine tomato, an Amish heirloom since 1885, will also be harvested. The Brandywine features a creamy flesh, bursts of flavor and large pink-red fruits.
Additionally, a 100-year-old variety of Lemon cucumbers and Golden Bantam corn grace the garden rows. Producing armloads of fruit the color, size and shape of lemons, the cucumbers offer a mild, crunchy texture and non-bitter skins. The sweet corn variety has been a favorite since the beginning of the century, because it germinates easily and with strong seedlings. Other heirloom garden varieties include Rosa Bianca eggplant, Nickel French Filet bush beans and Cushaw squash, a green and white striped skin variety with an orange flesh.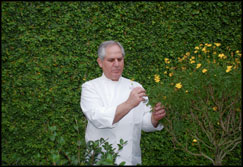 The new garden is planted on ground that was once a two-story horse and mule stable destroyed by fire in May 1913. As the land was tilled and prepared for planting, the gardeners unearthed a bit of Donaldsonville's past. Landscapers discovered many bricks, nails and horseshoes in their efforts to get the potager underway.
The garden is being created as the perfect place for outdoor events including cocktail and hors d'oeuvre parties. The heirloom fruits and vegetables will alter with the seasons, but you're always sure to find the unique and exotic standing row by row.